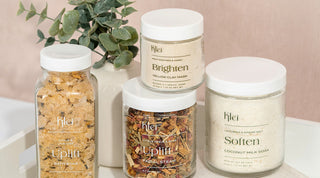 Our Brand Values
Animal-Friendly, Earth-Friendly, Inclusivity, Self-Love, and Transparency - these are the core values that shape Klei as a company.
Animal-Friendly
All of our products are cruelty-free, meaning that none have been tested on animals, only on our family, friends, and selves. We source ingredients from only verified cruelty-free suppliers.
Earth-Friendly
Klei's formulations are natural and made without the use of water. All products are packaged in recyclable packaging. We've minimized our carbon footprint by manufacturing and shipping all products from New Jersey.
Inclusivity
We strive to offer a sustainable self-care line rooted in inclusivity, and want all of our products to feel accessible to everyone. All Klei products are priced fairly, and we aim to create affordable products without compromising on quality.
Self-Love
Since the brand's inception in 2017, Klei has been strongly rooted in its mission of encouraging people to set aside moments of self-care through the use of its all-natural products.
Transparency
Transparency has always been at the core of Klei. From our ingredients to the product packaging itself, we're committed to clearly communicating what we stand for to ensure our consumers know what to expect from us.
Giving Back
We donate a portion of our online sales to the Brooklyn Community Foundation and the Environmental Defense Fund. Donations are made monthly. Learn more here.